Maideh and Sakis, an international couple living in Germany, decided to have their destination wedding in the charming city of Chania, on Crete, at a beautiful wedding estate Ktima Reveli.  We had the opportunity to shoot them in a variety of settings at various times throughout the day. This gave us the chance to showcase all the facets of the stunning couple and the many emotions involved in their wedding – tenderness, desire, excitement and joy.  For us as wedding photographers it was like hitting a jackpot!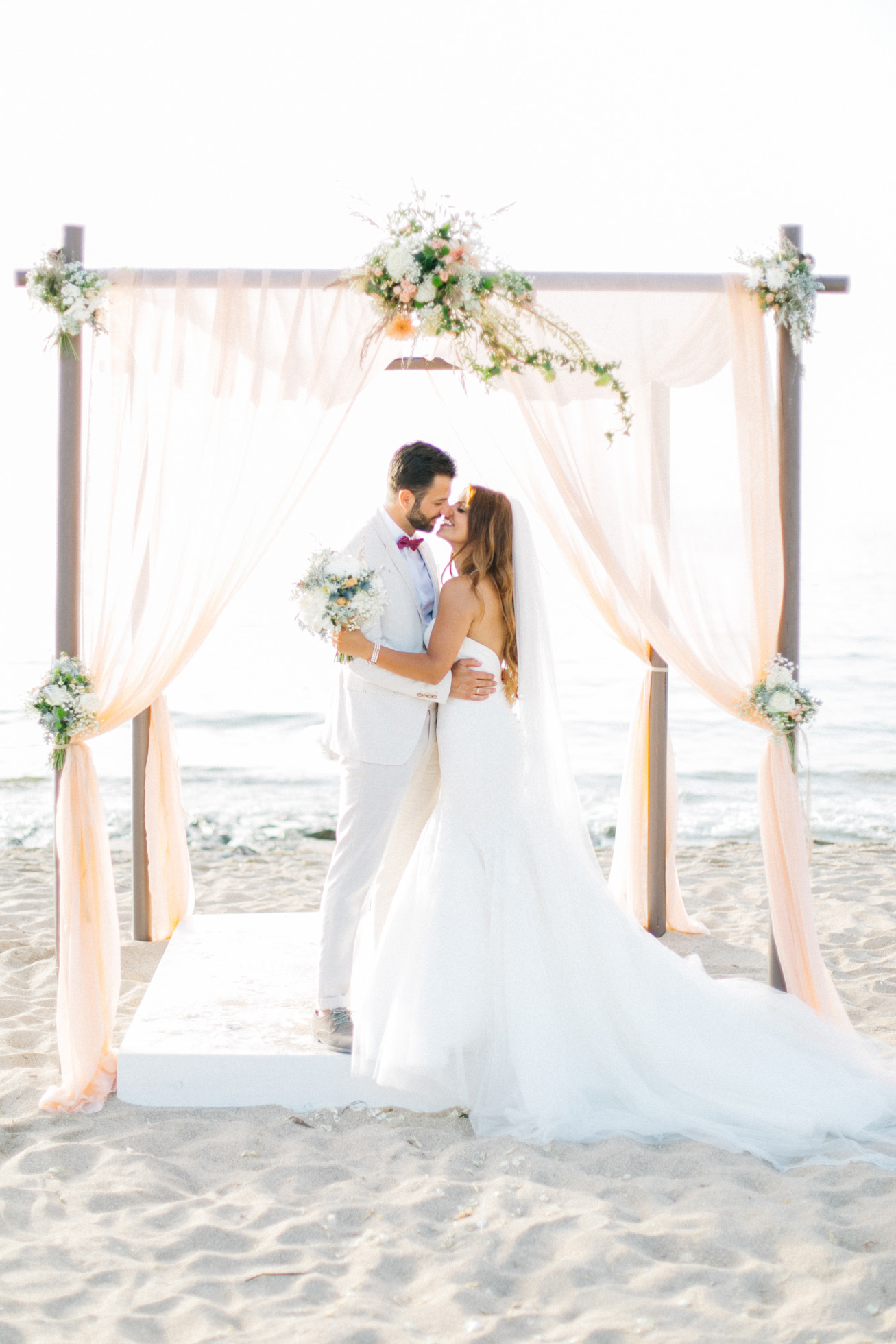 Our shoot started in the bridal suite with beautiful Maideh the bride, her mother and close friends and bridesmaids as they prepared for the ceremony.  The décor in the suite was modern and white. Perfect for some striking toned bridal portraits.  During the preparations we also wanted to capture that unique feeling of wedding day jitters – a mixture of excitement and nerves – evident in the smile of the beautiful Maideh.
The delightful beach ceremony was accented by thoughtful antique touches.  Soft peach gauze complimented by delicate floral arrangements, a vintage inspired candelabra and a gorgeous wooden screen added to the romantic ambience of the Greek Island wedding. Stepsis Wedding in Crete, their wedding planners, thoughtfully arranged all the details to achieve the overall look.  In their wedding photos we wanted to approach the composition and tone of the photographs with the same respect that was given to the décor and vibe of the ceremony.  Muted hues are unmistakable – in the pink undertones of the sand, the pillowy soft blue of the sky and the undeniable palpable serenity in the overall images.
After the ceremony and the group portraits, we moved away from the crowds and strolled down the shore with the newlywed bride and groom to shoot their beach portraits.  Complementing the antique vibe of their wedding ceremony photos our sunset portraits maintained the same quality of light and tone – resulting in super romantic photos filled with effortless elegance and intimacy.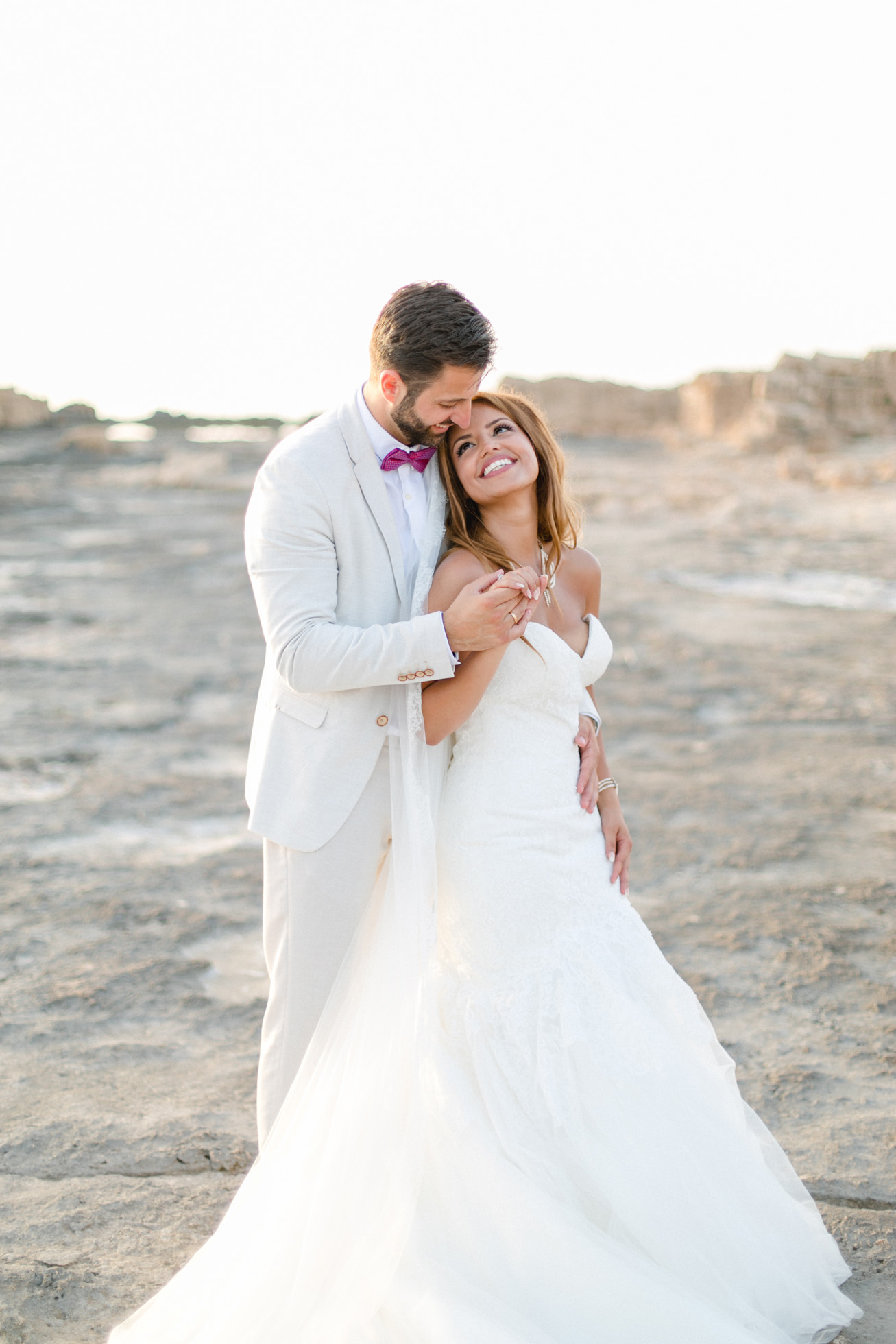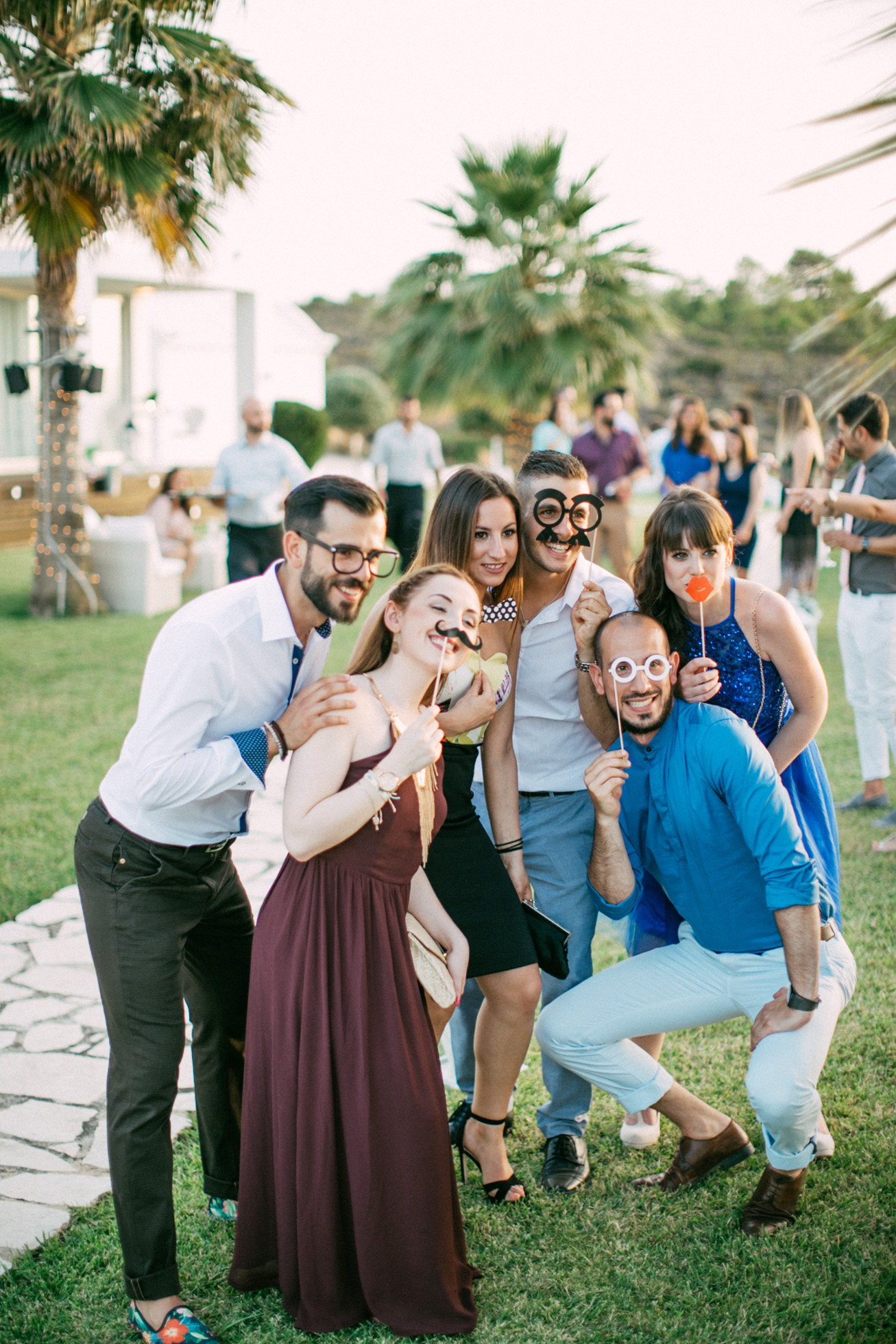 The next part of this Greek Island wedding brought us back to the estate and the reception dinner.  Guests sipped cocktails while the couple did a wardrobe change before making their grand entrance.  Day gave way to night, and as the sun sank into the sea our backdrop took on a more dramatic tone.  Rich midnight blues added a feeling of electricity to Maideh and Sakis's wedding photos – perfect for capturing the energy between these two.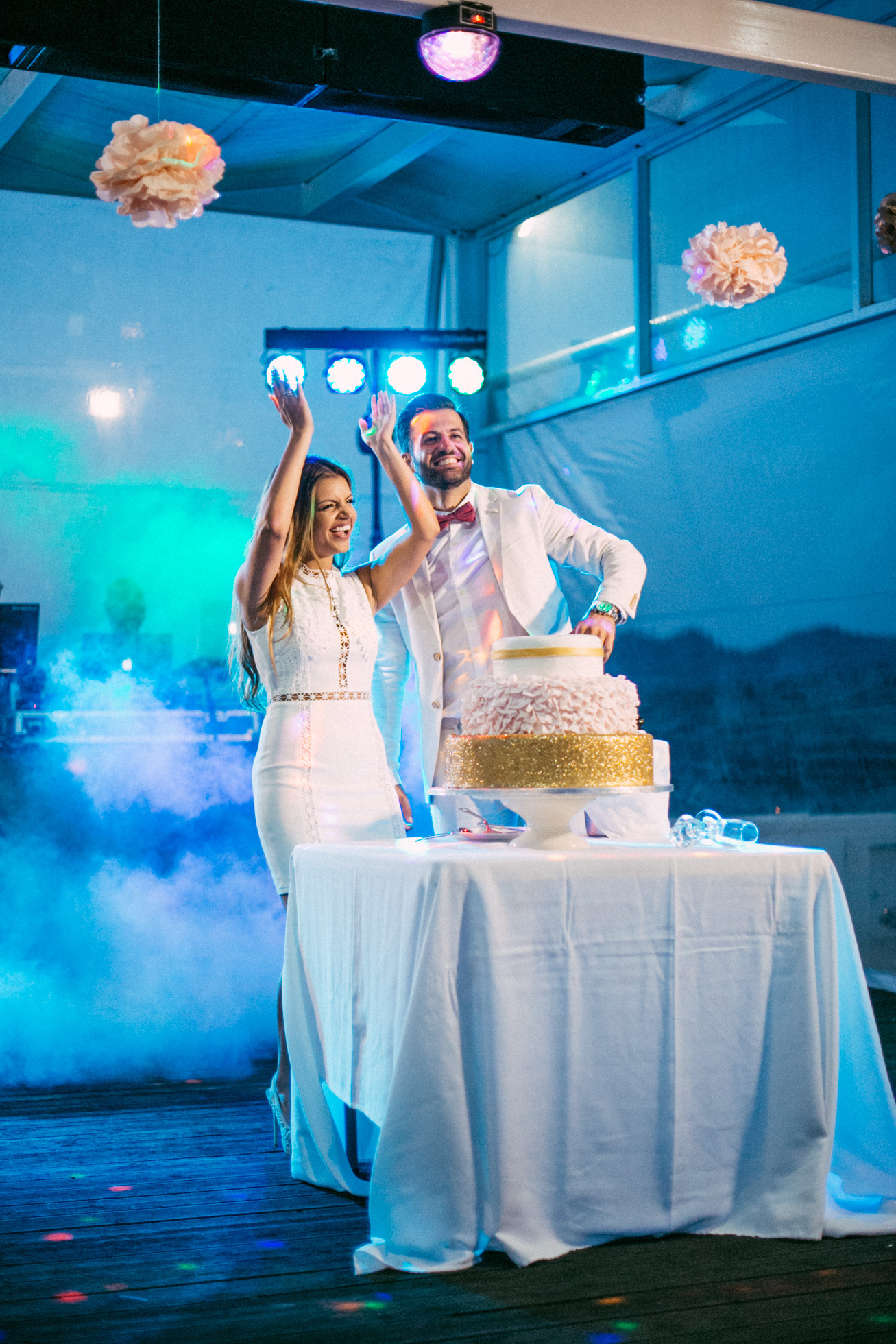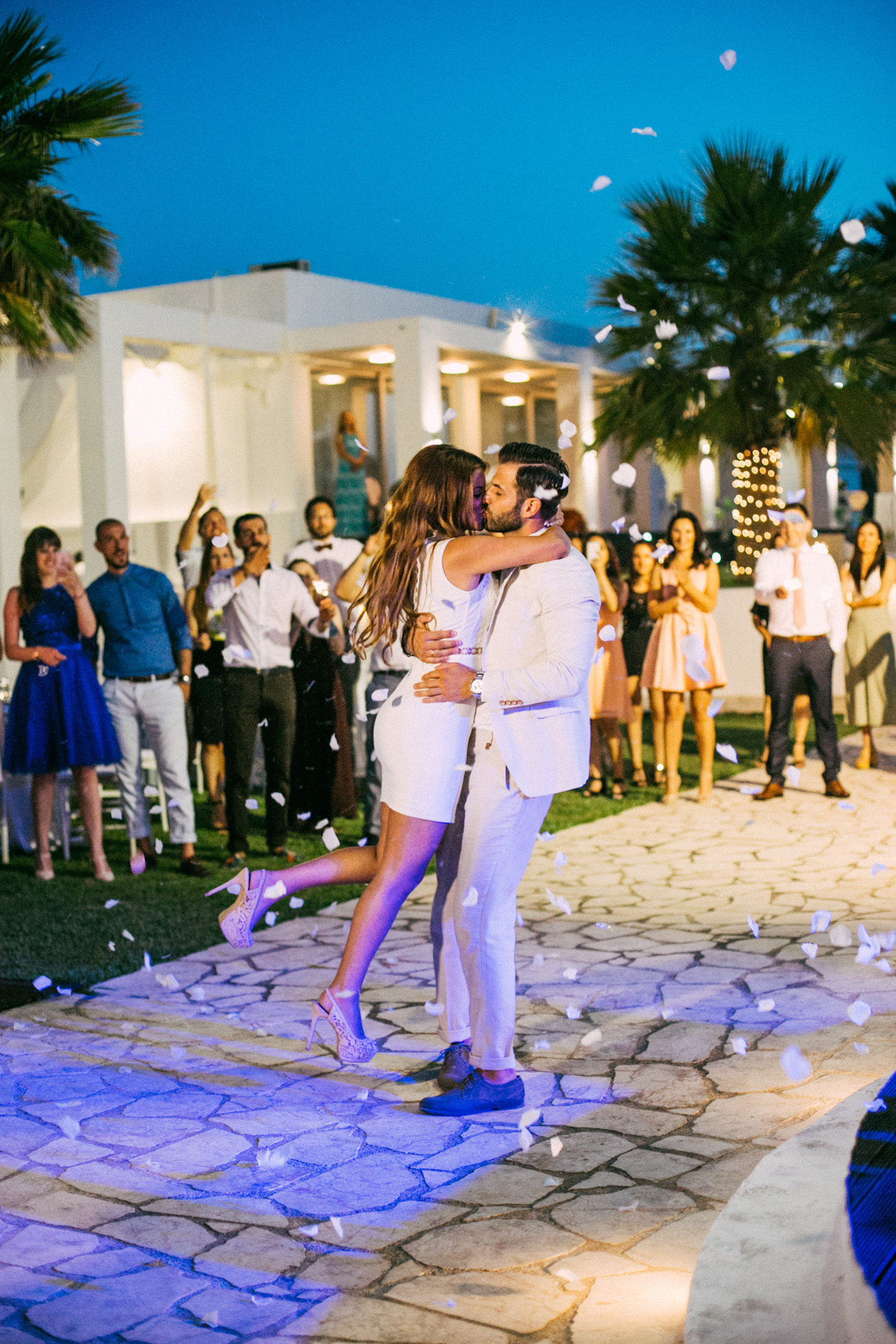 Wedding day is alive with emotion. Having the chance to photograph the event from early preparations stage to late party hours is a special opportunity for a wedding photographer – it is a privilege that gives us the chance to make deeper connection with our couples and their friends and families and results in producing genuine visual heirloom that truthfully reflects who they are and how they feel on one of the most beautiful days of their life together.